Retrofit & Modifications
Solid frame, obsolete electronics...
Is your machine is now orphaned by its vendor who refuses to support it at a reasonable price, if at all ? If it's mechanically sound, chances are a retrofit may be in order.
Your current machine could get a second lease on life thus avoiding the enormous capital expenditure of a new machine.
For a reasonable amount, you get a modern PC-based control system, touch screen and wireless control pendant. Sometimes, a new electrical panel may be necessary as well. In all cases, well worh the investment.
Should you require new capabilities at this time, your machine can possibly be modified to fulfill new requirements.



Here are a few examples of recent retrofits and mods...
V. Alberti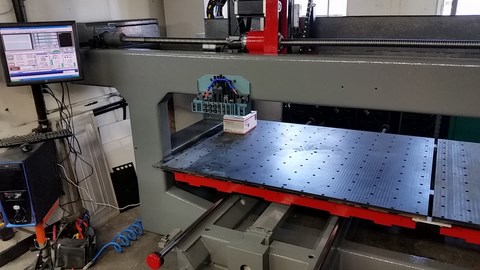 Three sisters.
Three V.Alberti wood cutting centers that served the office furniture industry with honor for many years were ripe for a carreer change: Their new owners wanted to cut 3D molds for vacuforming and other large 3D parts.
These retrofits included replacing the heads and the Z-axes with custom-fabricated assemblies which yielded a 18-inch vertical stroke, close to three times that of the original. The machine was also stripped of the gang-drilling heads, these being useless for their new 3-D mission. One of these machines was equipped with an automatic toolchanger and all three got a modern, compact electrical panel, along with Mach3-based control systems and touch screens. With the durable Italian quality of their build, these machines have many good years ahead of them.
Thermwood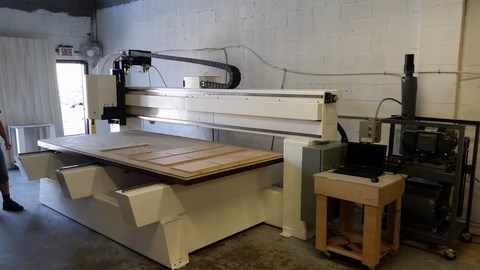 This solid and heavy machine was acquired from a woodshop which had set it aside because of a lack of support from the builder. The obsolete control system (it even read diskettes!) was completely removed and replaced by a modern and compact electrical panel and a Mach3-based controller. The machine is operated from a simple laptop and boasts a functional automatic toolchanger. Once retrofitted, it was purchased by a cabinetmaker early 2016.
Weiss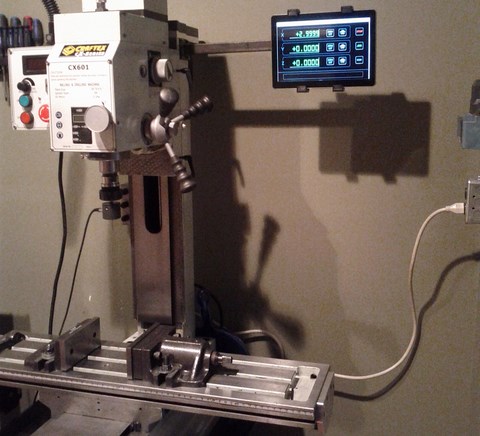 This manual milling/drilling machine was converted to CNC early 2015. The Mach3-based controller runs on a Lenovo tablet mounted on the machine. Many mechanical modifications were necessary to accomodate ballscrews on all three axes. The manual quill was retained as desired by the owner. It regularly cuts mild steel, aluminum and engineering plastics.
Fadal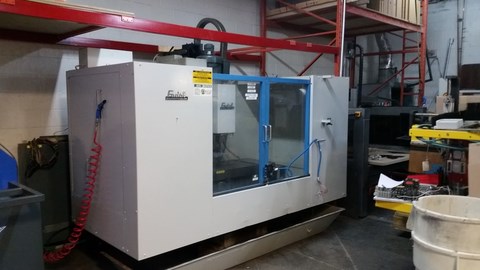 This FADAL 4020 was purchased late 2015 in marginal working condition. The goal here was to explore the limits of a Mach3-based controller with stepper motors. The machine now features 4200-oz NEMA 42 monster stepper motors, more than enough to move even this heavy machine.
The retrofit also includes a CSMIO ethernet controller module, a new solenoid-valve gang and a Yaskawa VFD capable of taming the humungous 10HP low-speed spindle motor.
AXYZ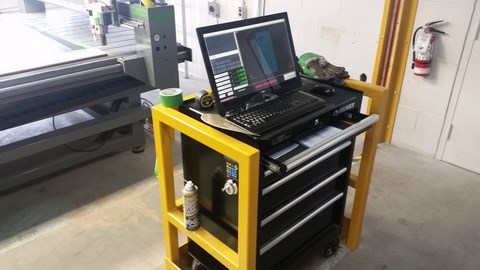 This machine was in total lack of TLC and was dismissed as heap of scrap. It was used to cut aluminum with undiluted coolant for close to two decades. After a deep, thourough cleanup, a new paint job, new linear rails and bearings, new stepper motors and control panel, the machine was ready for a radical transformation.
Our client needed a machine to cut nylon-reinforced vinyl sheets. We designed and fabricated a tangential cutting head with a rotary knife, controlled by the 4th axis. The new head also features a pneumatically-controlled quick-drying ink pen which is used to mark sewing guides on the material before cutting.
A Mach3 custom interface was developped which allows for marking and cutting either in a single or separate operations via a touch screen. This machine is also equipped with infrared LED safety curtains. It was delivered to a happy customer in mid-2016
Bridgeport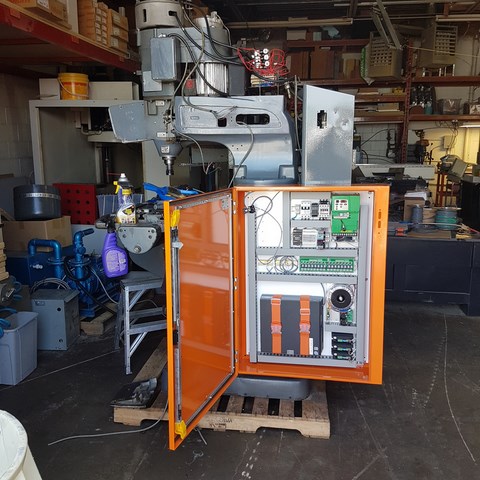 Another example of a lack of TLC. This american classic was delivered to us in early 2017 in a appalling state of uncleanliness. Many pounds of steel chips polymerized in old cutting oil covered every imaginable surface of this machine, yet the owner rightfully expected a quality retrofit. After a thorough cleanup and a dismantling of its obsolete control and electrical system, a new panel and wiring were fitted. The machine is now ready to begin its new life.
Today, the control system features LinuxCNC and NEMA 43 steppers and the machine purrs like a kitten. Its well-oiled induction-hardened dovetail ways show no signs of wear and the overly-complex automatic toolchanger works like a charm even with its fifteen solenoid valves and its dozen microswitches !
Joy Channel Letter Bender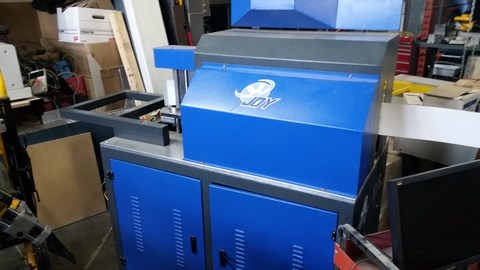 This machine is designed to bend metal strips into letter profiles for commercial signs.
The story of this machine is an all-too-frequent one: The client purchases an oriental machine online and it arrives without documentation or support and, of course, it does not work properly. As the vendor did not return phone calls, the only possible outcome was an outright retrofit.
This project was quite complicated, as we had to learn the subtleties of letter-bending along the way. The machine now accurately bends letter profiles from DXF drawings thanks to a Mach3-based control system featuring complex macros and a file-conversion software, custom-written in Python.
Unich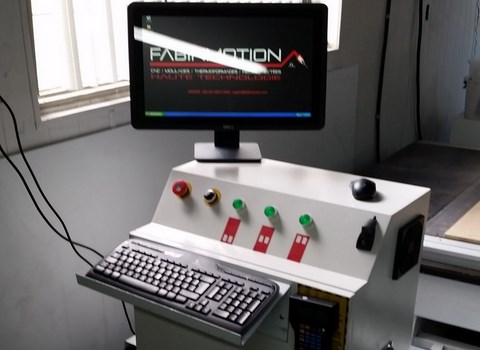 Yet another example of a machine ordered on-line without support or documentation. Regardless, this particular machine features AC servos for all three axes, a rare quality for a table this size.
A simple retrofit to a Mach3-based control brought the smile back on our client's face !
Trima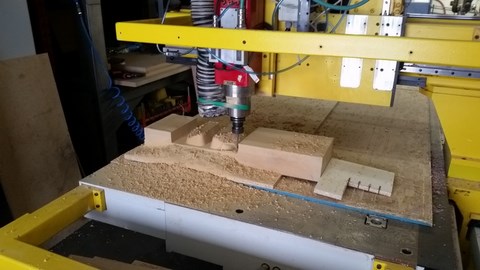 This machine was purchased mid-2015 following a sad incident during a moving operation, where a cable conduit was accidentally severed by the previous owner. The manufacturer wanted more than the machine's net value to perform the necessary repairs, which essentially wrote off the machine.
However, a retrofit seemed like an ideal solution. The original control system was removed, the wiring stripped, a new compact and modern electrical panel was fitted and a standard Mach3 system installed with a touch screen. The machine uses big 4200-oz NEMA 42 steppers and regularly cuts 3D molds and wood panels.
Panec
tric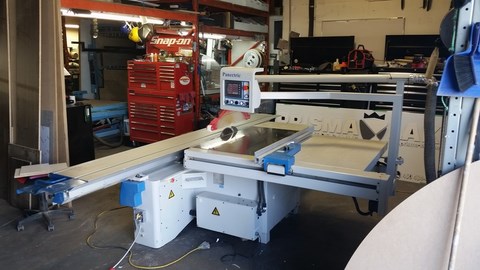 The owner of this digital table saw was running out of options when the machine refused to move the cutting guide.
A stepper motor was replaced along with its drive, which fixed the problem. Although not a strictly a retrofit, we couldn't pass the opportunity to mention yet another happy customer !
The client took delivery of his repaired saw in mid-2006
Redline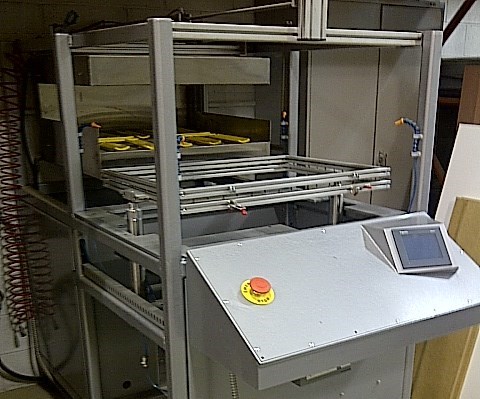 This old manual vacuforming press was sold to a client who was aiming to do heavy production runs with it. It was imperative to automate its operation.
A Schneider-Telemecanique PLC along with a Schneider touch-screen HMI were fitted, along with a custom ladder program. The machine has been in heavy production ever since, generating profits for its owner. The press was delivered in early 2016.